Published by Light Bulb Surplus on Mar 11th 2023
The real estate market can be a tricky business, and it's especially true during times when home prices are soaring across the country. With competition being strong, it's essential to pay attention to every detail when selling your home, and that includes your closets. While closets are primarily used for storing clothes, they can also be a deciding factor in closing a deal, especially if they're well-organized and presentable.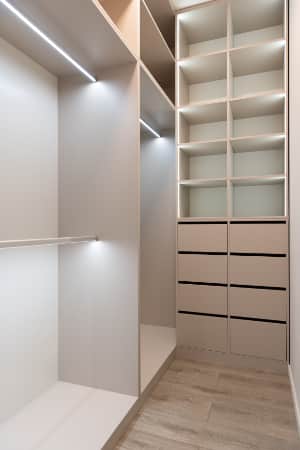 Before putting your house on the market, it's crucial to take a fresh look at your closets and work on making them a competitive feature. The first step is to thin out the contents of every closet. Clothes, linens, toys, and luggage crowded behind closed doors can make your home seem small and unable to handle storage needs. Ensure there is visible space on shelves and clothing rods, and gather stray items like belts or books into attractive bins, baskets, or containers. Consider choosing a color theme for those accessories and switching out hangers to match. And a fresh, vibrant coat of paint can't hurt either.
Personal paperwork like taxes and bills should be moved out of boxes or cabinets. No one wants to see those in any setting, and you don't want strangers to have access to that type of information as they stroll through your home. By decluttering and organizing your closets, you create a more visually appealing space that showcases the potential storage capacity of your home.
One way to add value to your closets is by installing lighting. Adding lighting to your closets makes the space more accessible and attractive. For linen closets, try light bars or rope lighting to gently illuminate neat stacks of towels and sheets. In spare bedroom closets, add one or two recessed can lights to make the space appear large and clean. For kids' bedrooms, get creative with themes and consider adding a pop of color with themed lighting. For the grand closet finale, dress up the master bedroom closet with layered lighting at every level.
A stylish chandelier supported by recessed lights or decorative wall sconces plus some undercabinet lighting at eye-level shelves can make your master closet memorable. Don't forget to add floor-level lighting for that little something extra to highlight shoes.
One added consideration that offers a significant impact for little investment is incorporating controls. Imagine a buyer stepping into your master closet, and it automatically illuminates! Motion sensors can make that a reality! Dimmers can also add to the drama of your closet presentation. These extras are the types of things a buyer doesn't even know they want until they experience them.
By investing in your closets, you create an added layer of value to your home that can set it apart from others on the market. It's not just about how many bedrooms or bathrooms your home has, but also how well it utilizes space, including your closets. Buyers want a home that's well-organized, clean, and visually appealing, and closets play a significant role in creating that impression. So, before you post that listing, make sure you've given your closets the attention they deserve. By doing so, you increase your chances of selling your home quickly and at the price you want.